Commercial Pest control
Pest prevention in commercial buildings and facilities is critical for maintaining a safe and healthy environment for employees and visitors. Pests such as rodents, insects, and birds can carry diseases and cause damage to property, leading to potential health and safety hazards.
We have been effectively servicing all types of commercial buildings and facilities throughout the Maryland, Virginia, and Washington DC corridor for more than 100 years.
Our team of highly trained service technicians is ready to work with you and your facilities managers today.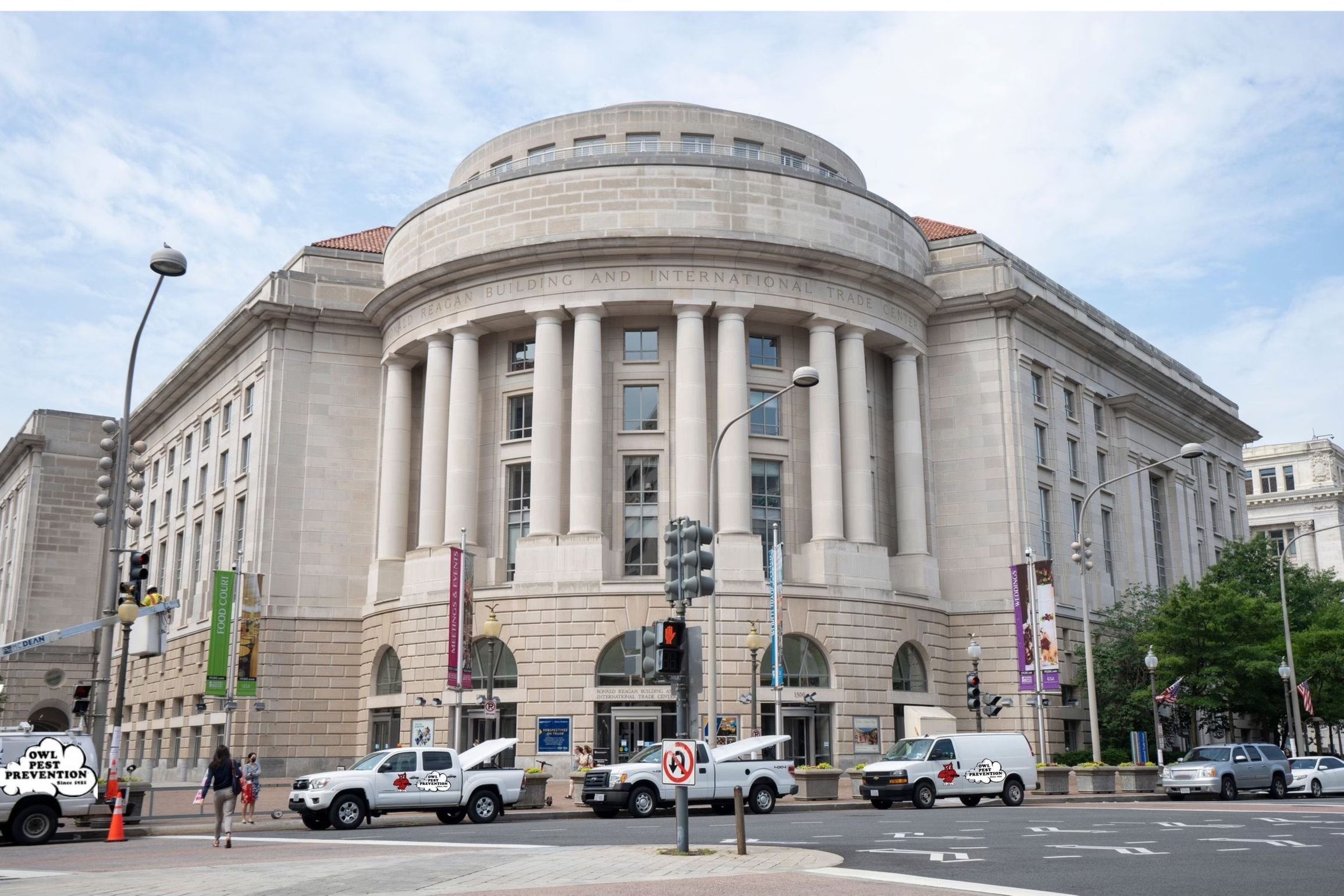 Pest Prevention for Government
Pest prevention in government facilities is important for maintaining a safe and healthy environment for employees and visitors. Owl Pest Prevention has been working with government agencies and contractors within government facilities for decades, providing consistent and accountable pest control services for every client.
With our proven effective services, government facilities can prevent pest infestations and maintain a safe and healthy environment for all who use them. We are proud to say our clients stay with us for many years.
Rapid Response Every Time.
Fast, reliable, and effective dispatching of Owl's well-trained and uniformed service team is what you receive when you sign on as one of Owl's partners. Owl is fully insured and licensed and only uses products registered with the Federal Government and the EPA. Whatever type of property you manage, you need Owl as your pest prevention answer.
Our extensive experience in the field of pest prevention over the past 100+ years, coupled with our best-in-class technologies and environmentally-friendly processes, makes us the top choice for government agencies and commercial facilities for pest prevention throughout the Maryland, Virginia, and Washington DC metro area.
Our Step By Step Approach
1. Keep the facility clean and free of clutter. Pests are attracted to food and debris, so regular cleaning and removal of waste is essential.
2. Seal cracks and openings in walls, floors, and ceilings. Pests can enter through even the smallest gaps, so it's important to seal these openings to prevent their entry.
3. Use screens on windows and doors. This will prevent pests from entering the facility through these openings.
4. Store food and waste properly. Keep food in sealed containers and dispose of waste in sealed trash cans.
5. Implement a pest control program. Regular inspections and treatments can help prevent pest infestations.
6. Educate employees about pest prevention. Encourage employees to report any signs of pest activity and provide them with information on how to prevent pests.
7. Work with a professional pest control company. They can provide expertise and services to prevent and control pest infestations.
We take great pride in our work. Our team is highly trained and employ the most effective methods and resources available in the pest prevention and control industry today.
Pests We Most Often Deal With
Ants

Rats and Mice

Cockroaches

Termites

Bed Bugs

Fleas and Ticks

Spiders

Bees and Wasps

Birds

Canine Bed Bug Inspection

Conventional Bed Bug Inspection

Other Occasional Invaders