Bed Bugs Prevention & Removal
Bed bugs can be a persistent and frustrating problem for homeowners, but with the right strategies, they can be effectively removed and prevented from returning. To prevent bed bug infestations, it's important to regularly clean and inspect your bedding, furniture, and clothing.
If you suspect a bed bug infestation, it's important to act quickly to prevent the problem from getting worse. Some DIY methods for bed bug removal include vacuuming thoroughly, washing and drying bedding and clothing on high heat, and using bed bug sprays and powders.
However, for a more effective and thorough solution, it's best to call in professional extermination services. Experienced pest control professionals have the tools and expertise necessary to completely eradicate bed bugs from your home and prevent their return.
Using Only Best in Class Products
Aprehend – A Natural Biopesticide
Available only to licensed professionals, Aprehend is the leading professional grade product available for the elimination and prevention of bed bugs. This revolutionary product in unrivaled in the industry for its efficacy and safety, along with its price point.
This product is not diluted as it comes ready to use, manufacturing every ounce designed for maximum efficiency. This saves considerable time and cost on labor and repeat vists. It's 3 month residual effect allows proactive treatment and thus continues working long after it's application.
Once in contact with the product, bed bugs become carriers transferring Aprehend to other bed bugs they contact, thereby removing the infestation more efficiently and quickly than any other methods or products on the market today. Get rid of bed bugs now. Call us today for a free estimate or to learn more.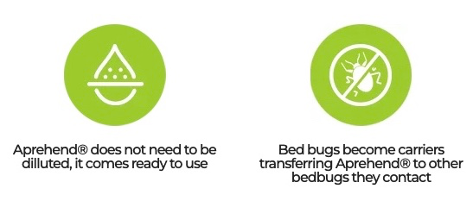 "Owl Pest Prevention was a life saver as we found ourselves with a bed bug infestation that required us to move out of our home. Owl Pest was able to exterminate the bed bugs and put prevention solutions in place so we don't have to worry about them ever again. Highly recommend Owl Pest and their team."
Get Rid of Bed Bugs for Good
We offer comprehensive bed bug removal services to help customers get rid of bed bugs for good. Our team of trained professionals uses safe and effective methods to eliminate bed bugs from your home and ensure that they don't come back.
Bed bugs can wreak havoc on your property so proper prevention and removal methods are critical to removing them now and preventing them from ever coming back in the future.
Don't let bed bugs take over your home or place of business – contact us today to schedule an appointment and get started on the path to a bed bug-free home!